Easy Do It Yourself Home Improvements Blog
This easy do it yourself home improvements blog is here to help you with new additions to the site and any current information I think you may want to know.
It's easy to stay current. Subscribe to my blog (no e-mail necessary), by right-clicking on the orange RSS button and then paste the URL into your RSS reader. (the RSS button is on the little menu to the left) Or click on the My Yahoo! button or My MSN button if you prefer to read my blog updates there.

If you are not sure what RSS and blogging is all about, click on the "What's an RSS Feed?" link (also on the little menu on the left). Once you start, you will be amazed at what RSS can do!
Wiring A 3 Way Switch?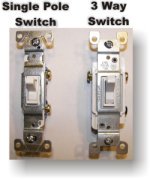 Need help wiring a 3 way switch? With easy to follow diagrams and instructions, you can have that convenience in no time.
---
Hey, doing it yourself is great but if you are unsure of the advice given or the methods in which to job is done... don't do it. This site is merely a collection of how some people do home improvements. There is no way we can anticipate every situation and we do our best to inform of any risks for each job. Be sure to check local building codes for proper installation and permits. 
If in doubt, hire it out.
---