About Me
From Renovations to Real Estate to Web Site Owner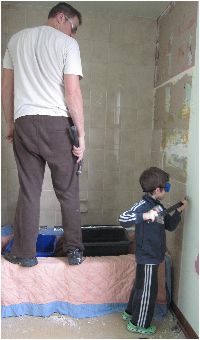 Growing up we moved all the time.  I went to 9 different schools by the time I graduated Grade 12.  My dad was always switching jobs and we seemed to move into houses that needed more and more renovations.  Having 3 boys, my brothers and I learned quick which tools were needed for the job and how to lend a hand.  From hanging drywall, insulating, roofing, plumbing, electrical, we even tried our hand at hobby farming.  We were farm boys who learned that hard work above all payed off.
Fast forward to today...after being married 17 years, my wife and I have four beautiful children and have bought and sold 13 houses.  We have personally moved 9 times.  Did I learn anything from my dad?  I sure did, he taught me how to entirely renovate a house and how to move.  We were making great money flipping houses until the market came crashing down on us in 2008.  
With the kids getting older and being more involved in their school and sports I knew we could not keep moving from town to town. I knew I could no longer rely on the real estate market for extra income.  
You see I am a machinist by trade and my wife is a stay at home mom.  After working 8 hours at my day job I would come enjoy a few hours of family time then my wife and I would put the kids to bed and start renovating.  Year after year, house after house we would try to move further and further ahead financially.  We did get a return for our hard work, but it was time to look for another form of income.  
My wife and I considered her getting a job outside the home.  With 3 boys in hockey and our princess in figure skating, soccer in the summer for all 4, we wondered how could she fit work into the families schedule.  The ideal solution would be a job where she could work from home, but after searching they all seemed really sketchy.  
So...we decided I would start my own renovation business on the side while working a day job.  That lasted a year and my wife and I were on total burn out.  With four precious ones at home we knew they were our priorities, but making ends meet every month proved to be difficult.  
A friend told us about a web site that she built from the comfort of her own home.  She got us really excited when she showed us the cheques she received in the mail.  We explained to her that we were not text savvy and did not know any HTML code.  Really we did not know the first thing about building an online business.  She told us that through the company she used we did not have to know any of that stuff.  That is when we were first introduced to Sight Build It (SBI).
Skeptical at first - we are believers.  SBI is not a get rich quick scheme.  It takes hours and hard work.  But we have done it and continue to succeed.  SBI's step by step program makes it hard not to.
My first sight was on - you guessed it - home renovations.  Having lots of knowledge and on the job training I was able to turn this passion into money.  Do you know something about anything?  A passion?  A hobby?  An interest?  Anything?  Why don't you do what we have done and let SBI help you launch your website?
We have not had a ton of time to work on the site, but it brings in income while we sleep.  We had a few meager goals.  We first wanted to make enough money to cover the expense of Solo Build It - $29.99 a month.  Once we did that, we thought, hmmm, I wonder if we can get it to cover two sites a month.  Again - success.  Next goal was $100 over and above our Solo Build It expenses.  Success.  Just this past November we set a goal to have our site cover our mortgage payment.  Guess what?  This December we went over and above our mortgage payment.  I cannot wait to tell you when we reach our next goal - to replace my full time income, without leaving the house.
You too can be successful with Solo Build It, Chris
Dispel those myths that it cannot be done.  You can do it!
---
---