Easy DIY Plumbing
I think by far the best part of diy plumbing is the enormous amount of money you can save. I think some plumbers (I know there are lots of honest ones too) take advantage of the "un-handyman" by charging stupid amounts of money for relatively easy tasks.
You may know this from experience (I do, why do you think I learned what I learned?) that these guys charge more than you probably make working for 2 hours just to walk up the path to your house! Then it takes like 20 minutes to do the job and you have to apply for a loan to pay the bill!
Don't get me wrong, plumbing is an extremely skilled trade, I just think that if you are going to spend the money, let them do the hard stuff. You can handle most plumbing jobs around the house.
---
DIY Plumbing help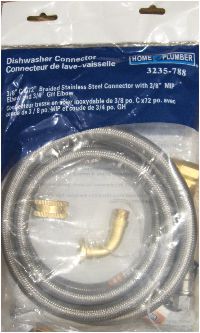 Do you have a running toilet?
Looking to do a quick bathroom remodel?
Wanting to hook up the ice maker in your fridge?
Does your faucet need replacing? 
Do you want to move your washing machine?
Are you wondering if you could hook up that dishwasher yourself? 
Wondering how to solder copper pipe?

Thinking of getting an outside faucet?

Do you need to unclog your shower or bathtub drain?
Need ideas for your bathroom remodel?
---
No problem.
I have loads of easy do it yourself plumbing help. I will walk you through some basic plumbing techniques and give you some help with various plumbing projects.
This site will not make you a master plumber, but it will give you the tools you need to "get the job done".
As Red Green would say, "If the women don't find you handsome, they should at least find you handy." Ah, Red Green...
OK, lets get serious now. I know not everyone has entered the diy plumbing world but I am here to walk you through the things you need to know.
Chances are, the plumbing in your house is fine and will be fine for years and years to come. You will probably need this information only to upgrade your existing fixtures. This is when how to install a toilet or how to install a dishwasher can come in handy.
I can give you some do it yourself plumbing techniques on installing different shower stalls. You can make informed decisions on what you want installed and how you are going to do it. We can even get into a bit of do it yourself plumbing repair. I can show you some tips on freeing a clogged toilet or fixing a leaking one.
So let cinch up our belts and "plunge" into the world of diy plumbing!
---
---
Wondering How To Install A Toilet?
-- Does the old throne need replacing? Are you installing a new toilet? It's not as "crappy" a job as you may think...

Looking for ways to do a quick bathroom remodel?
--If you have a weekend, you have time to do a quick reno on the bathroom.
Wanting to hook up the Ice Maker in your Fridge?
--Have your family enjoy ice from the fridge when you learn to install an ice maker. 
Learn How To Solder Copper Pipe
-- Wondering if you can get that copper plumbing installed or fixed? You can with these easy to follow instructions.
How To Install A Washing Machine
-- You can learn how to install a washing machine easily. Great washing machine plumbing tips and advice!
--With step by step instructions, you can learn how to install a dishwasher yourself.
--Before calling in the plumber or using chemicals, you may be able to unclog the shower drain with some good old fashion elbow grease.
---
Hey, doing it yourself is great but if you are unsure of the advice given or the methods in which to job is done... don't do it. This site is merely a collection of how some people do home improvements. There is no way we can anticipate every situation and we do our best to inform of any risks for each job. Be sure to check local building codes for proper installation and permits. 
If in doubt, hire it out.
---