Easy DIY Flooring
DIY Flooring is easier than you think.
With a little advice, the right tools and step by step instructions from someone (yours truly) who has "been-there, done-that", your floor is as good as installed.
What do you notice first when entering a room? No, I don't mean that tacky wall colour... The flooring of course! It is there staring you in the face all day everyday.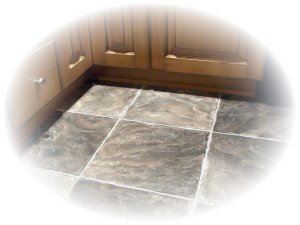 "Wow, nice floor."
"Is that real hardwood"
"Ceramic tile, nice"
These are all things we the people who enter your home are going to say when they walk in or are having the "grand tour". I think it is great when my guests comment on my bathroom flooring or express their amazement on the installation.
But what blows their mind even more is when I say,
"Yeah, I installed it myself."
A lot of people think flooring is an unattainable skill developed only by hours and hours of training and multiple installations. I can tell you from experience that if you want to install a floating wood floor, hardwood floor, carpet,ceramic or a linoleum floor, it can be done easily and economically.

I am not saying it isn't a lot of work, it is. I always tell my wife that before it looks good, it always (and I do mean always) looks bad. It is messy, dirty, doesn't usually happen "same-day" but I can tell you this...
When it is done... To quote one of my favorite comedians Jeff Allan...
"Happy wife, happy life."
A new floor can really improve the look and feel of the whole room.
Different types of flooring can really help in how to design a room. Everything from floor tile design to colors to texture for ceramic/natural stone floors. Do you want carpet or carpet tiles?  Carpet tiles are easier to install, but do they last and hold up to wear and tear?
Wood floors are really popular. Would you like a floating wood floor, hardwood floor, engineered hardwood floor, perhaps even the very popular and in style bamboo flooring.
What's the difference between all these products?
Stay tuned for more info I will be covering (no pun intended) for DIY Flooring.
---
---
Laminate Flooring
---
Hey, doing it yourself is great but if you are unsure of the advice given or the methods in which to job is done... don't do it. This site is merely a collection of how some people do home improvements. There is no way we can anticipate every situation and we do our best to inform of any risks for each job. Be sure to check local building codes for proper installation and permits. 
If in doubt, hire it out.
---